We Stand with Lahaina: A Community's Generosity Crosses the Pacific
10/31/2023 (Permalink)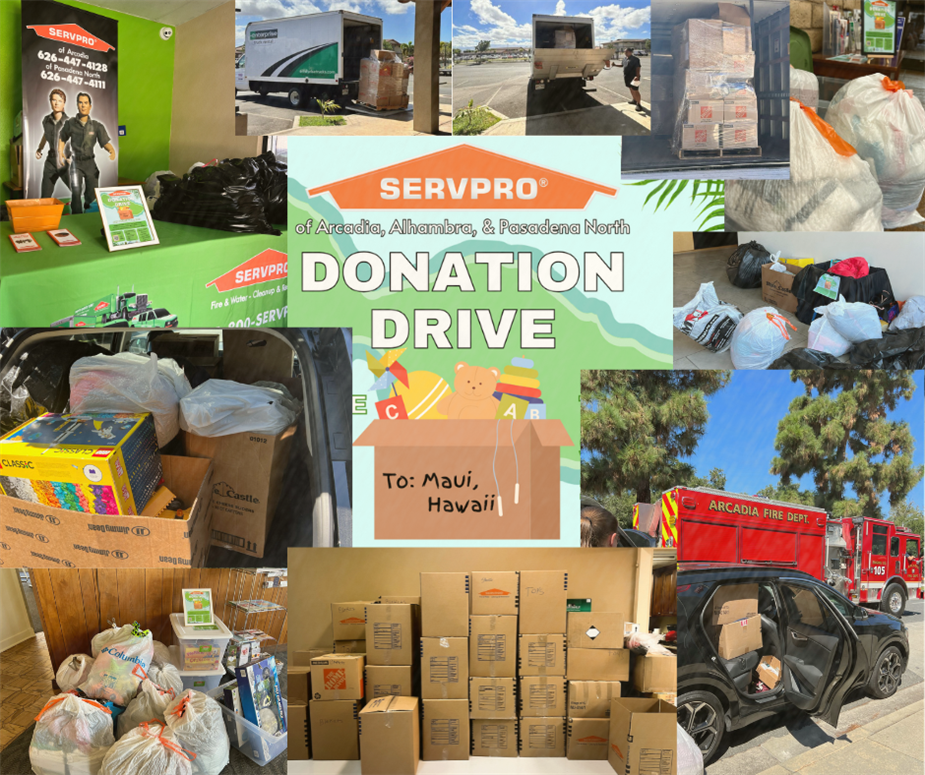 This is a photo collage on top of the flyer that sparked a wave of donations to flow into our warehouse, which were then packed and shipped to Maui.
In the wake of natural disasters, the resilience of the human spirit often shines the brightest. The devastating wildfires that tore through Lahaina, Maui, in August 2023 were a heartbreaking reminder of nature's unpredictable wrath. But as Lahaina faced the aftermath, over 2,400 miles away in Los Angeles, a beacon of hope was being kindled.
Community Comes Together
For many, watching the news coverage of the Lahaina wildfires evoked a profound sense of sorrow and helplessness. However, our team here at SERVPRO of Arcadia, Alhambra, and Pasadena North, it ignited a fervent determination to lend a helping hand. Recognizing the urgent need for support, the team mobilized the community in Los Angeles with a clarion call to action: a donation drive throughout September.
From LA to Lahaina: Shipping Love and Support
The response was overwhelming. Families, businesses, and individuals from all walks of life stepped up, donating essential items ranging from non-perishable food, clothing, and medical supplies to toys, books, and household goods. Every item, a symbol of a community's unyielding support for another in their time of need.
What made this drive especially heartwarming was the shared understanding that it wasn't just about sending items; it was about sending love, solidarity, and a promise that Lahaina was not alone in their recovery journey.
Gratitude from the Islands
The donated goods, carefully packed and labeled with love, were shipped off to the families in Lahaina. The reception on the island was deeply touching, with many residents expressing their heartfelt gratitude. For some families, these packages represented a fresh start, a glimmer of hope amid the ashes and rubble.
For Lahaina, a town renowned for its close-knit community and Aloha spirit, the shipments from Los Angeles reinforced the belief that the spirit of 'ohana (family) extends beyond island borders. It's a testament to the global community that comes together, time and time again, in the face of adversity.
A Lasting Impact
While the donation drive was centered around a month-long effort, its impact will be felt for years to come. As Lahaina begins the long process of rebuilding, they do so knowing they have friends thousands of miles away, ready to support, uplift, and assist in any way possible.
From SERVPRO of Arcadia, Alhambra, and Pasadena North, a huge mahalo (thank you) to those all those who made this happen, bridging the distance and reminding us all about the power of community, kindness, and shared humanity.
In times of disaster, it's often said that every bit helps. But sometimes, it's more than just "a bit" – it's a whole community's love and care being shipped across the vast Pacific. And that makes all the difference.